---
What is a Sub-Domain?
A sub domain is one, which resides under your top-level domain name, but in many ways behaves as a "totally independent domain". You'll observe that many of the larger corporations use these, as they're somewhat more professional looking, and do a better job of creating an independent precedence for service or product lines, which appear as separate web entities.

Example: You're a GM dealer with a site such as GM.com. You sell everything from Pontiac's to Cadillac's. To better organize your online presence, you could create sub domains for your various automotive lines. These would appear as http://pontiac.gm.com/ or http://cadillac.gm.com/. Also note that in most cases, the domain need not be called with the http:// or www protocol. pontiac.gm.com can be called exactly how it appears here.

Setting up a sub domain: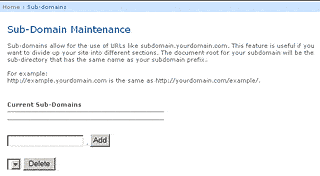 Thanks to the control panel, this task has been made easier than ever and can be achieved as follows:

1. Login to your control panel (http://www.your-domain.com/cpanel/)
2. Select Sub Domains
3. Enter the name of your new sub domain
4. Hit "Add"

That's it! Your new sub domain is now ready for use. To find it, login to your "main web directory" through your control panel by selecting "File Manager " or simply use your favorite FTP client. You'll see it residing as another directory. Upload your files to this directory just as you would with any other. For example, if you created pontiac, then a directory called pontiac is what you'll be looking for.

Independent cgi-bin

All new sub domains are created with their own independent cgi-bin. This means your new sub domain operates independently of everything else, and is almost like having a whole new domain. Feel free to configure all cgi scripts, which are pertinent to the functioning of this sub domain. A nice feature, as it saves your main cgi-bin from becoming cluttered and somewhat disorganized; especially if you utilize a lot of cgi programming.

Independent email for the new sub domain - (In final development)
Yes, you'll observe duplicates of all "configured pop email accounts" appearing beside the sub-domain, and or all sub-domains you've created. Now I know you'll be tempted to use (what appears to be) a perfectly good email address's, BUT please "Don't!" This is a feature that is in final development. While it may look somewhat confusing at first glance, it's really not. In the near future, you'll be able to configure these email accounts for use with your sub-domains. For example, if you configured support.yourdomain.com, then you'll be able to use the address tom@support.power2003.com.
For the time being, please configure email address's that correspond to your standard "top-level" domain, and just ignore the sub-domain duplicates. ALSO: Any duplicate sub-domain email address's you see appearing in your pop mail setup configuration "DO NOT" count towards your allocated number of pop mail boxes we've provided.
© Contains copyrighted material.
Duplication without permission prohibited